MICROSOFT AZURE SQL 365
Build apps faster on a fully managed SQL database
Part of the Azure SQL family, Azure SQL Database is an always-up-to-date, fully managed relational database service built for the cloud. Build your next app with the simplicity and flexibility of a multi-model database that scales to meet demand. Gain near real-time insights without impacting performance with Azure Synapse Link for SQL Database.

Fully managed SQL database automates updates, provisioning, and backups so you can focus on application development

Flexible and responsive serverless compute and Hyperscale storage rapidly adapt to your

Layers of protection, built-in controls, and intelligent threat detection keep your data secure

Built-in AI and high availability maintain peak performance and durability with an SLA of up to 99.995 percent
Fully managed and always on the latest version of SQL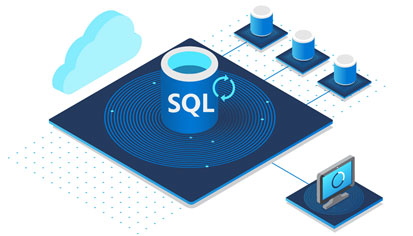 Eliminate the complexity of configuring and managing high availability, tuning, backups, and other database tasks with a fully managed SQL database. Accelerate your application development in the only cloud database with evergreen SQL using the latest SQL Server capabilities, and never worry about updates, upgrades, or end of support again.
Rapidly deliver modern, intelligent apps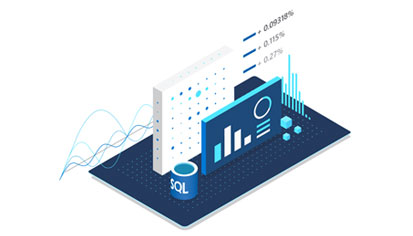 Build applications locally or in the cloud on popular platforms and frameworks with driver support for the most common languages, and simplify development with native support for services like Azure Functions and Azure App Service. Meet the demands of modern applications and work with data in multiple formats, like graph, JSON, spatial and more. Optimize price performance and manage the multitenant complexity of your software as a service (SaaS) applications by sharing resources through elastic pools.
Hyperscale your most demanding workloads
Break through the resource limitations that can affect your application's performance. Azure SQL Database Hyperscale adapts to changing requirements by rapidly scaling storage up to 100 TB. Flexible, cloud-native architecture allows storage to grow as needed and enables you to back up data almost instantaneously and restore your cloud database in minutes—regardless of the size of the data operation.
Optimize costs with compute that scales automatically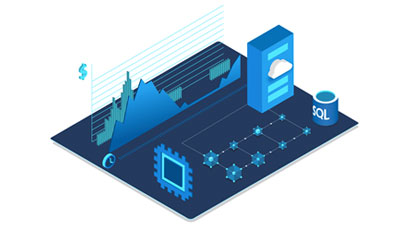 Build modern apps your way with provisioned and serverless compute options. Azure SQL Database serverless simplifies performance management and helps developers build apps faster and more efficiently with compute resources that automatically scale based on workload demand.
SQL Database serverless is best for scenarios where usage is intermittent and unpredictable and where you pay only for compute resources you use on a per-second basis, which optimizes overall price performance.
Save with the best total cost of ownership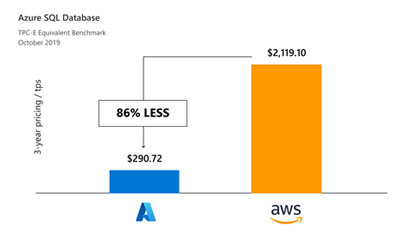 Switch to Azure SQL Database and get better price performance than with other cloud providers. Azure SQL Database meets your mission-critical requirements and costs up to 86 percent less than the competition.
Use Azure Hybrid Benefit for SQL Server to maximize the value from your current licensing investments. Use your SQL Server licenses with Software Assurance and save up to 55 percent compared to pay-as-you-go pricing on SQL Database.