VEHICLE TRACKING SOLUTION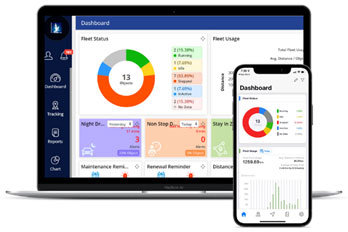 Vehicle Tracking System is a compact solution for remote vehicle tracking. It provides you with an easy-to-use web and mobile application platform, with an intuitive user interface, as well as detailed MIS reports already prepared for you. Using Vehicle Tracking System, you gain a hawk's eye view of vehicles beyond your line of sight.
A variety of options to fit your budget (Pay per device, monthly, or one-time):
Regular: basic tracking, history playback, and MIS reports.
PILOT: Advanced tracking, history playback, email / SMS alerts, and MIS reports
Neo-track: Stylish yet powerful tracking, history playback, email / SMS alerts, and MIS reports
Premium: Detailed yet inclusive tracking, history playback, email / SMS alerts, MIS reports, analytics, and rating.
Features Vehicle Tracking System
Fuel Management: Read and manipulate vehicle fuel from CAN-bus (such as OBD-II) or external Fuel Sensors.
Temperature Monitoring: 24x7 monitoring Reefer / Freezer temperature
In-vehicle RFID / iButton tagging manage your drivers with the automatic attendance system!
Harsh Driving Behavior Pattern / Green Driving: On harsh brake, harsh acceleration, seatbelt, over speeding, weekend usage, and so on. o Unlimited Geo zones on the map.
24x7 support via email and WhatsApp.
Free software updates and online support including periodic training.
Tire Pressure Monitoring System (TPMS).
Robust hardware with up to 5 years extended warranty.
Insight View of Vehicle Tracking Systems
Track your vehicle on the digital maps LIVE 24X7.
History Playback of over 2 years' information.
Get on-screen, email and SMS alerts on various events such as over speeding, excessive idle, fuel sudden change, reefer temperature, harsh braking, unauthorized usage, oil change, crossing Geo zones, etc.
Vehicle theft recovery - we can help you track and trace your vehicle around the globe.